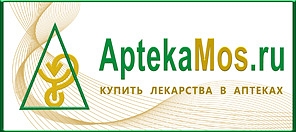 Contact details
Fax: -
Useful links
О компании
AptekaMos.ru is the first and one of the most successful Internet portals for search and assistance of buying medicines in pharmacies. There are about 1 million users and visits per month. The confidence index is 8 (out of 10).
Services for doctors and public:
• Search for the lowest price among the medicines list. The nearest pharmacy choice of on the map by district, underground, street and pharmacy network.
• Reference book of medicines. Medicine instructions. Directory of diseases.
• Public service of medicinal provision: 8 (495) 775-79-57, 8 (800) 555-62-65 - consultations, ordering of medicines in Moscow and regions.
• AptekaMos app for iOS and Android.
Services for pharmacies and pharmaceutical companies:
• Publication of price lists.
• Medicines withdrawal information.
• Regulations.
• Medicine retail market monitoring (API).
• Advertising campaign conduction.
Категории
Welcome to visit